The following is a list of requirements for installing SOAPSonar Enterprise and Personal Editions.
Operating Systems Supported:
NOTES: SOAPSonar can be run on MAC and UNIX based systems through the use of a Virtual Machine running a Windows OS.
Systems Minimum Requirements:
1GB RAM (Minimum)
1GHz CPU (Minimum)
250MB Free Disk Space
.NET Framework 4.8 and 3.5 (both are required)
If you plan on heavy performance testing with SOAPSonar, please contact Crosscheck Networks support to discuss recommended requirements.
Installation and Activation Requirements:
Local Administrator rights - full access to registry
Network connectivity for activation (online via HTTPS or manual via email)
vcredist_x86 Prerequisite:
Some users installing SOAPSonar may encounter the following error: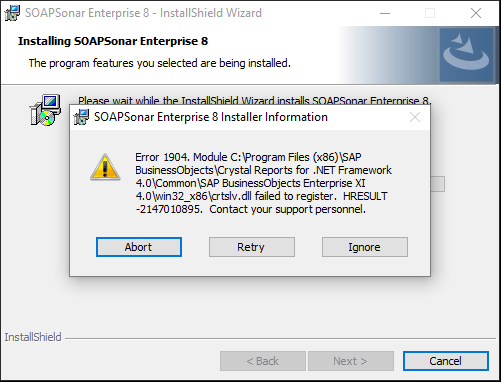 To resolve this problem, please download and install the vcredist_x86 prerequisite for SOAPSonar. Then run the SOAPSonar installer again and there should not be any further issues.